Booking Terms and Conditions for swim, gym, fitness classes, courts, golf, and pay and play sports coaching sessions
Updated 18.8.22

---
If you paid for your activity at the time of booking we are unable to offer any refunds and your booking cannot be moved* . Please only book an activity if you are confident you can attend. Whilst in the past we made every effort to enable some movement of bookings, with pressures on current resources and to prioritise customers needing assistance we are unable to offer any flexibility on this.




Alternatively, if you have an Edinburgh Leisure membership and the activity you are booking is part of your membership (ie you do not pay for it at the time of booking), you can cancel your booking up to 3 hours before your activity starts. If you cancel less than 3 hours before your activity starts you will be charged £3 (£5 for golf).




Also if you have an Edinburgh Leisure membership and the activity you are booking is part of your membership (ie you do not pay for it at the time of booking), you will be charged £3 (£5 for golf) if you do not attend your activity, or you do not register your attendance by swiping your card at our gates tablets or with a member of staff.




The person who made the booking must be in attendance. If required, they must be able to prove they are the account-holder.




Where a Junior price is available for booking a court at least 50% of participants must be under 18



*Unlike other activities, the online booking system on our website allows customers to move their own court booking up to 24 hours before their booking starts (this is not possible on the app).
Find out more below.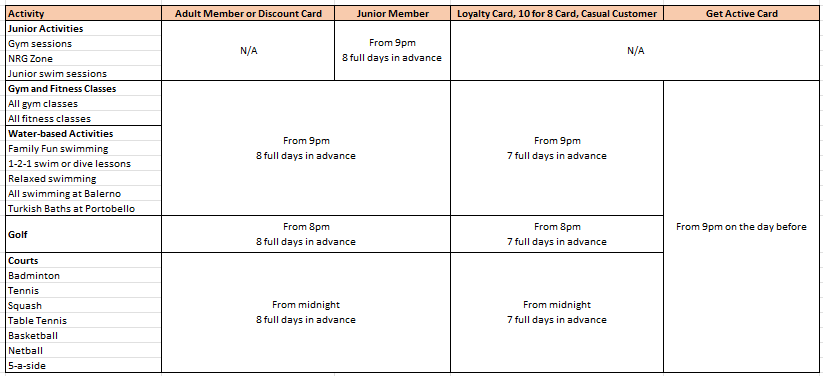 Cancelling or moving a booking and charges
If you paid for your activity at the time you booked it your booking is non-refundable and cannot be moved. You are not able to move your booking to another time, apart from court bookings. You can move your court booking on our online booking system (link) up to 24 hours before the start of your booking. Here's a link to more information on how to do this.

If you booked an activity covered by your membership (no charge when you booked it) you can cancel your booking up to 3 hours before the start of your activity on the app or online booking system with no charge . If you cancel your booking after this time or you do not attend/register for your activity in time at your venue, you will be charged a £3 fee* (£5 for golf bookings).

You can avoid cancellation and no show charges by:

Only making bookings when you know you can attend.

Cancel bookings as soon as you know you cannot attend.

Always swipe your card at our access gates or tablets, or see a member of staff.

If you make a booking after you have swiped in, ensure you make a member of staff aware before you leave so we can mark you as attending your booked activity

How to pay a late cancellation or no show charge*
We will notify you by email the day after the booking.

The email will contain a link to allow you to pay for your charge online.

Your booking rights will be automatically removed if the charge is not paid after 7 days.

*Late cancellation and no show fees do not apply to Family Fun Swim bookings
To ensure fair access for all our customers:
Badminton and tennis court bookings are limited to one booking per day.



Fitness classes cannot be booked where classes have overlapping end/start times.

Golf cannot be booked across multiple golf courses in any one day.

You can add yourself to a waiting list for our Fitness and Gym Classes. Our automated system runs at intervals throughout the day and will email any customer on a waiting list where there is now a space. The email will contain a link to book into the class on a first-come-first-served basis.
Waiting lists for Fitness and Gym classes are deleted 3 hours before the start time of the class. This ensures customers can immediately book into a space showing on the app or online booking system in the usual way and do not need to wait for an automated email.

If Edinburgh Leisure needs to cancel your booking
Should we need to cancel your booking for any reason we will notify you by text message (if you have provided us with your mobile number). On occasions we might not be able to do this if we need to cancel at short notice in which case we will try to phone you to let you know.
If you paid for your activity at the time of booking and we have to cancel the activity we will automatically refund the full amount to the card you used for booking within 7 days. You do not need to contact us. If you have paid for your booking using Loyalty Points we will add the relevant number of points back to your account.

Related Articles

Can I cancel or move my booking?

For simple instructions on how to move a booking online, please follow our step by step guide to moving bookings. Bookings that don't need payment (ie the activity is included in your membership) can be cancelled in our App or online booking website. ...

What is a No-Show/Late Cancellation fee?

From Tuesday 2nd May 2023 all activity bookings by members will be subject to a No-Show/Late Cancellation fee. What is the No-Show/Late Cancellation fee? The charge will be applied in the following circumstances: You don't attend a pre-booked ...

How do I move my court booking?

If you book a court (e.g. to play tennis, badminton, or squash) you can move your booking to another time online (via bookings.edinburghleisure.co.uk). At present our app does not allow you to move a booking. You can move your to another day or time ...

Clip n Climb Booking Terms & Conditions

Arriving in time for your booking Please arrive no later than 15 minutes before your session, please head straight down to Clip n Climb area within the arena. Changing or cancelling your bookings and no shows Please only book a Clip n Climb session ...

EICA Coaching Terms & Conditions

Under 18's Assessment Terms & Conditions 1. Any form of Climbing can be a dangerous pastime that can lead to serious injury. The British Mountaineering Council (BMC) recognises that climbing and mountaineering are activities with a danger of personal ...