How to book a Family Fun Swim session using the app.
You can book a Family Fun Swim session online here or you can book using our app which you can download from Apple and Android app stores.
2. Choose 'Family Fun Swim' tile
3. Choose the Family Fun Swim session day/time you want to book


4. The system knows who you are so will automatically charge you the correct price. You can see the prices for a Family Fun Swim on any venue's 'Membership and Pricing' web page. If swimming is included in your membership, you will not be charged.

Tap 'Add more people' to book more people into your Family Fun Swim session.



5. Add the number of adults, Junior 0-4 years and Junior 5-17 years you want and tap 'Apply'. You can book for a maximum total of 4 adults, 4 Junior 0-4 years and 4 Junior 5-17 years.





If anyone in your party has an Edinburgh Leisure membership or discount card, do not include them in your booking. They should book themselves into the same session as you separately. If you simply add them to your booking you will be charged the full price for their Family Fun Swim.





The only way they can benefit from their membership/discount price is to book themselves into the same session.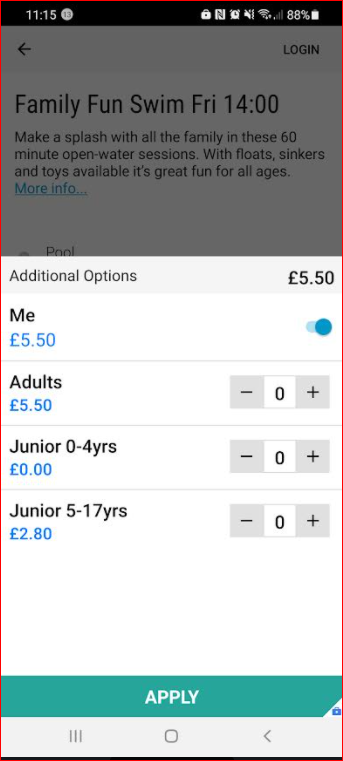 6. Check you have booked the correct numbers at the correct time, and then tap book.

7. Follow payment instructions and you will be able to see your booking on
Related Articles

Booking Terms and Conditions for swim, gym, fitness classes, courts, golf, and Family Fun Swim.

Updated 26.11.21 Key facts: If you paid for your activity at the time of booking we are unable to offer any refunds and your booking cannot be moved* . Please only book an activity if you are confident you can attend. Whilst in the past we made every ...

Family Climb Taster Session Terms & Conditions

Any form of Climbing can be a dangerous pastime that can lead to serious injury. The BMC recognises that climbing and mountaineering are activities with a danger of personal injury or death. Participants in these activities should be aware of and ...

What is casual swim?

From Monday 23rd May you'll be able to enjoy a casual swim in our pools. You'll be able to see when these sessions are running on our online timetables and book them from 9pm Saturday 14th May, with the first sessions in the pools on Monday 23rd ...

How do I book a swim session on behalf of my child?

How do I book a swim session on behalf of my child? This is a way to book a session for a child without a membership, using your own membership number. Even if the session is only available for children, you can follow this process to book on their ...

Can I cancel or move my booking?

For simple instructions on how to move a booking online, please follow our step by step guide to moving bookings. Bookings that don't need payment (ie the activity is included in your membership) can be cancelled in our App or online booking website. ...